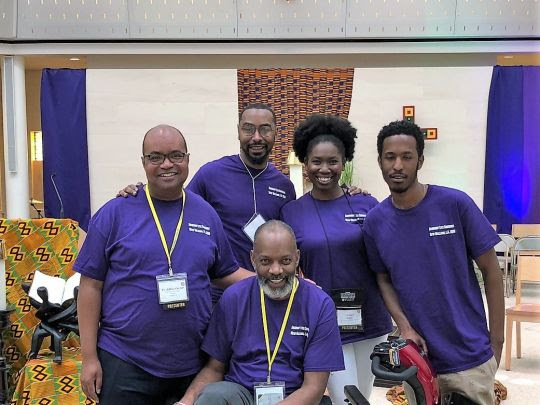 The Rivers Music Institute is named after the late Father Clarence Rivers. The Reverend Dr. Clarence Rufus Joseph Rivers, the first African-American priest in the Archdiocese of Cincinnati, was a well-known Catholic liturgist who contributed to the first official American mass in English after the Second Vatican Council in 1963. His hymns were reminiscent of earlier African American spirituals and led to the acceptance of black Catholic music in liturgy. 
The Lyke Conference is named after the late Archbishop James P. Lyke, the 2nd African American Archbishop of the Archdiocese of Atlanta. Archbishop Lyke also coordinated the hymnal project which produced Lead Me, Guide Me: the African American Catholic Hymnal. The conference theme for 2018 was "Walk Together Children" Celebrating Black Catholic Leadership.  Attending from our Lady of Lourdes was Father Jeffery, Kenneth Louis, LeRell Ross, Chanel Bailey and Tim Maxey from our Music Ministry.  The keyboard musicians of our music ministry are also gaining national recognition as The Levites of Our Lady of Lourdes.
Our Director of Liturgy & Music serves as the Conference's Music Director.   This year, Kenneth felt it important that the pastoral and musical contributions of Our Lady of Lourdes could greatly impact those who would attend the Conference.  Subsequently, Father Jeffery and Chanel were invited to teach a course on "Praying the Psalms" which was met with rave reviews.
Next year's conference is proposed to be in the Washington DC area.  Father Jeffery is hoping more members of Lourdes will be able to attend the conference and be exposed to this national experience.